Rapid Transformational Therapy - self love session
For if you want to gain confidence in your abilities and feel ready for the next level!
                            Upcoming session: 18 – 11 – 2021
                                                           20:00 – 21:00 CEST
                                                                                                                               Limited spots available only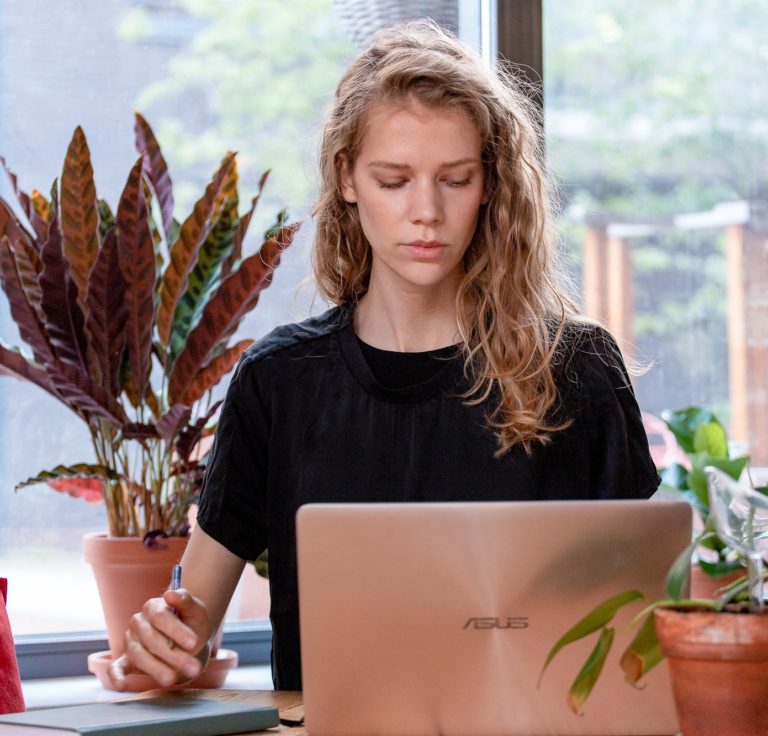 You want to launch a program, start your own webshop, scale up your business, start your own podcast, but don´t feel ready yet. 
You lack motivation and confidence and therefore end up scrolling through Instagram, texting friends, cleaning the dishes (great! but not for your businnes;)). 
You feel like you are a fraud and that your accomplishments so far are plain luck. 
Thoughts like ´who am I too…?´ and ´I don´t have the right skills, knowledge or talent´ fill up your headspace way too often! 
That´s it, let´s be honest here. No worries, no one is listening. You feel like whatever you do, it is not enough. Like you first need to gain X before you can start doing Z, am I right?
How big your impact could be if you´d truly start to believe in yourself and your ideas.
How productive that extra boost of motivation and confidence would make you. 
What a difference it would make for your career or business if you´d fully tap into your potential, and how alive and empowered it would make you feel!

This is all possible!
I am here to help you take your own leadership. Because what you need to gain is more trust, confidence and empowering beliefs on a subconscious level, so you can take the right actions. 
That's right, there is nothing more you need to add to you. It is time to connect with your highest self. To start seeing yourself for who you really are. It's time to trust yourself and take leadership. 
Time to install some extra confidence, girlfriend!
Time to do some subconscious reprogramming so you´ll start to feel more deservering of success, love and anything good in life.
Deep Dive RTT group session for more self love (1 hour)

In this Rapid Transformational Therapy group session we will dive deep, together. You will get to know yourself on a deeper level and find out why you have a hard time loving yourself.
In this session we will find out what beliefs hold you back on a subconscious level, and where you picked them up. A small event that seems meaningless, that happened during your childhood, could have caused a big fear later on in your adult life, without you even realising. Together we will upgrade those limiting outdated subconscious beliefs. See it as a beautiful software update for your subconscious mind;) 
In short, you will upgrade your inner child for more self-belief, confidence, and trust.
What is Rapid Transformational Therapy?


RTT is a combination of Neuro-linguistic Programming (NLP), Cognitive Behavioral Therapy (CBT) and Psychotherapy. It is a new revolutionary method that enables you to access your subconscious mind.
RTT helps you find out the root cause of why you´re not excelling the way you wish to, and to upgrade limiting subconscious beliefs that no longer serve you. These can be beliefs that have held you back for -no joke- over 20 years! That's right, many times without even being aware of it.

RTT can help you to (but are not limited to):
-Unlock motivation
-Increase self love & self confidence
-Increase public speaking skills
-Develop a healthy money mindset
-Work in a focused way
-Overcome fears and anxieties

In short, through RTT I help you find out what holds you back on a subconscious level.
18 - 11 - 2021


20:00 - 21:00 CEST
€111-,

LIMITED SPOTS AVAILABLE 
Hmmm sounds great, but...
You are always in full control. All Hypnosis is Self Hypnosis. Hypnosis is a very natural state. In fact, every day you reside in states of hypnosis. Think of hypnosis as a trance state in which you are fully in the moment, like when you are riding a bike, driving a car or are glued to your laptop because you´re binge watching your favorite netflix series. 
This trance state allows you to take in affirmations and suggestions fast, and therefore upgrade thought patterns and beliefs. That's right, so it can influence your actions and behaviours in a positive way, and therefore change your life.
You don't need to believe in it, just know the science behind it. Hypnosis is the fastrack to influence your subconscious mind. Neuroscience shows that 95 percent of everything you think, do and feel stems from your subconscious mind. In other words, almost everything you do happens without your conscious awareness. The power of hypnosis is that it brings you in a different brainwave state, which enables you to understand your limiting behaviours and beliefs. Behavioral change all starts with changing your thoughts. Through hypnosis you change your thought patterns, beliefs and therefore your actions.
Are you really? Why did you come to this page in the first place…?
Do you really want to settle for less if you have the opportunity to level up your game? 
You are so worthy of believing in your own gifts and therefore contributing to the world even more than you do now. Let´s do this together, okay?
How will I receive my audio?
You will receive your audio by mail. Make sure to keep an eye on your mail inbox, including spam. Once you have received the audio, it is highly recommended to listen to it for 4 weeks, with headphones.
Tip: create a morning or evening routine that includes listening to your audio. The easiest way to form a habit is by creating a cue.
What if I am not happy with the audio?
If you are unhappy with the audio, there is a 14-day refund guarantee. Send us an email by hello@ellesottens.com and we will happily arrange a refund for you.
How does hypnosis work?
Hypnosis directly influences your subconscious mind. 95 percent of everything we think do and feel stems from our so to speak formed blueprint. This blueprint is formed in the early stages of childhood. The blueprint exists of the thoughts, behaviors and actions we learned from our parents, teachers, our experiences and society in general. Even though those beliefs and behaviors don't serve us anymore, they stay with us if we don't consciously work on it.
Hypnosis is the fastrack to influence your subconscious mind. It brings you in a different brainwave state, which allows your subconscious mind to take in new empowering beliefs easily. After listening to your audio for several weeks, you override your old limiting thought patterns with new empowering thought patterns. Behavioral change all starts with changing your thoughts. Through hypnosis you change your thought patterns, beliefs and therefore your actions.